Sarah Belle Mingo Stevenson, 1925-2023
Sept. 26, 2023
Sarah Stevenson, 97 years and 11 months, died this morning at the University Place Nursing & Rehabilitation Center in Charlotte, after a lifetime devoted to family, church, public service and love of all people. More on her death, legacy, and plans to celebrate her life will be at the Sarah Stevenson Tuesday Forum website here.
---
Welcome
Sarah Stevenson has had such an impact on Charlotte. This site is devoted to just a few of the projects she has launched or supported.
---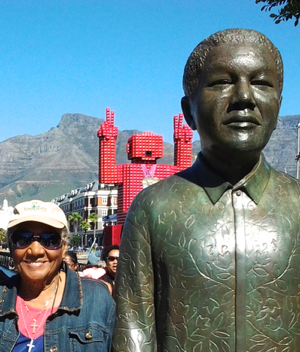 Scholarships for South African students: Born of a personal promise to some South African students while Mrs. Stevenson was on a tour of their country, the fund has helped one student attend Johnson C. Smith University in the fall of 2015, and may be activated again for another student in the fall of 2016.
---

The Sarah and Sammy Stevenson Endowed Scholarship Fund: Mrs. Stevenson had long wanted to honor her fourth son by naming a college scholarship for the internationally known opera singer. In 2013 she and her friends began the fund.
---

Growing the Dream Annual Awards Ceremony: Mrs. Stevenson serves with others to spearhead this event at Johnson C. Smith University that is part of the citywide celebration of the Martin Luther King Jr. holiday weekend. She is also a past honoree.
---

Sarah Stevenson: A life of service: Reflections and memorabilia that touch on the life of Sarah Mingo Stevenson.
---
Updates on Sarah Stevenson
Notes from Elloree Erwin about her older sister Sarah's health by year: 2021;  2020.
---