Jan. 17, 2015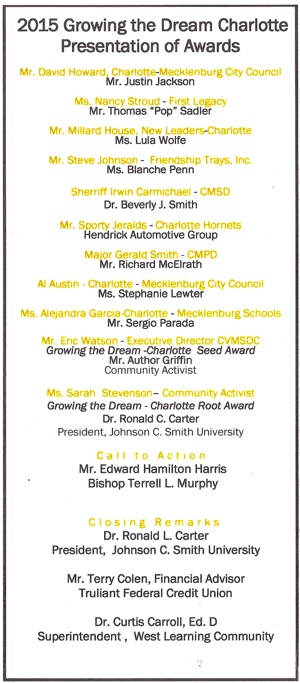 Dr. H. Allen Smith inspired the creation of Charlotte's Growing the Dream Awards ceremony in 2014 when he was an area superintendent under Heath Morrison. Then he was gone.
Saturday, he was back from the Oakland Unified School District in California where he is chief of schools, to  keynote the second annual awards event, which CMS helps organize. Truliant Federal Credit Union was primary sponsor.
Smith's stirring speech was a call to serve others, as well as a call to pass the torch of knowledge and commitment to the next generation. But he also argued that African-Americans may have lost their way.
"There are tricks that have been played on people," Smith said. "And the biggest trick is that we have 'rights.' We can get stuff. We can vote. So now the fight is over. Is it really?
"The second trick was allowing a unified people, a people that stand together, to be divided amongst one another that are still impacting our society today….
"Things are happening to us and they are dividing us in ways that we don't even know…. The issues we face as black people do not stop at an address, income level, education level. But unfortunately we have been duped into thinking that it does.
"We have been duped into thinking that just because we can get a few extra letters at the end of our name or at the beginning of our name, we have somehow arrived and we have somehow made it….
"It is only by the grace of God that I am here today. I too could be like Mike Brown and every other black male sitting in this room could be like Mike Brown. The fight is not over.
"Folks, I submit to you that the trick cannot continue any longer. It has to stop. People here know that, but we must get others outside of this room, maybe some inside this room, to embrace it…."
Below are two videos from Smith's keynote.
(This material was first published on the Tuesday Forum website.)